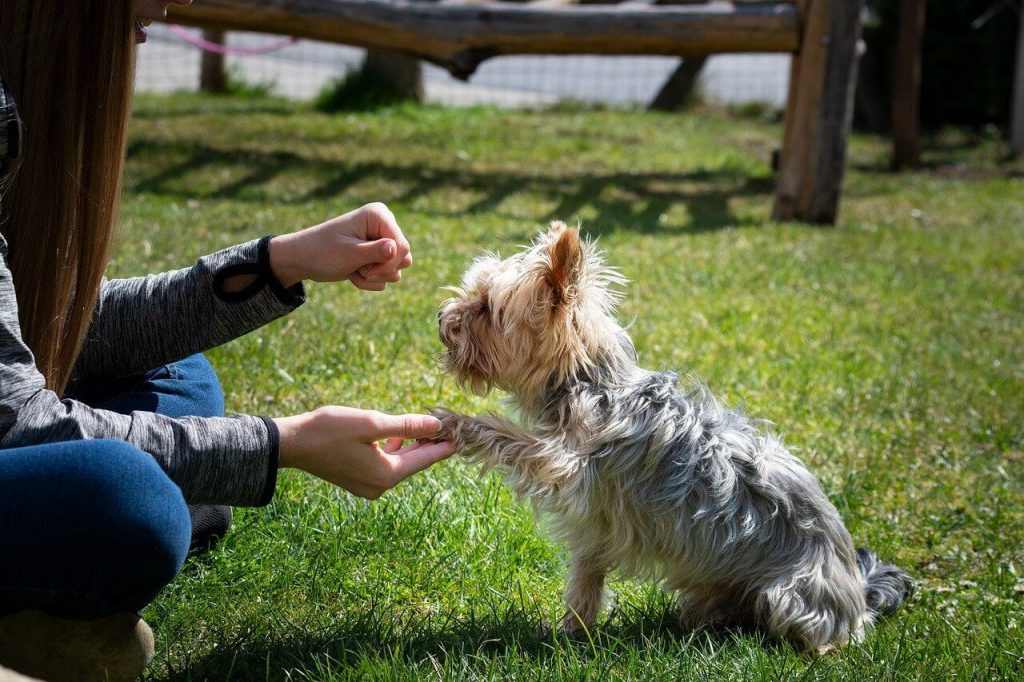 The Dog Training Tools I Recommend Most Frequently
Below are a few dog training tools that I recommend to all of my clients.*
Rest assured, I personally use all of the products you see here. I only recommend products that I trust and that will be a good investment for you.
Dog Training Treat Pouch
Rewarding your dog is an important part of all successful dog training. In most cases, you'll want to use food rewards, such as dog training treats. Timing is crucial, so it's important to be able to grab treats quickly. Alternatively, you can put treats in your pocket, but honestly who wants to greasy, pieces of food in their pockets all day?!
I like this dog training treat pouch because it has a lot of convenient features. I especially like the divided treat pocket which stays open for quick and easy access to treats, then snaps tightly shut to hold treats securely. It's what I use everyday when I'm training my own dogs and clients dogs. Comes in two sizes. I use the large size, but I think the small would be better suited for a lot of dog owners.
Dog Whistle
First, I want to say that a dog whistle is not imperative for training your dog. The reason I recommend that my clients invest in a dog whistle, however, is because they are a great to use it to train a rock-solid emergency recall. After your dog is trained to respond to the whistle, you only use it when you absolutely, no matter what, need it. It's not something that you use all the time. You reserve it for emergencies. It's so worth it!
I like the Benbulben 2-pack of dog whistles because you get two whistles and it's high pitched, but not too loud. It also comes with two convenient lanyards so you can keep it around your neck on your dog outings.
Long Lead / Check Cord
A long lead, also know as a check cord, is a must for puppy and adolescent dog owners. It's an invaluable part of your dog training arsenal. A long lead check cord will allow you to give your dog a little bit of freedom to move around, yet you will still have a way to reign in your pup if he gets distracted and starts to lose focus on you. It's a great training tool for instilling a reliable recall.
The SportDog Brand Orange Check Cord is 30 feet long and sturdy. It's well suited for medium to large breed dogs and puppies. It's only to be used for training while you are present, and should never be used as a way of restraining your dog when left alone.
Dogwood Chew Toy
There are a million chew toys on the market. This is one stood the test of time in my doggie household. The Petstages Dogwood Chew was durable and long lasting and, most importantly, my dogs liked it! It's also made in the U.S.A. and safe for dogs. Comes in several sizes and flavor variations. Give them a try and let me know what you think!
Stay Tuned for More Recommendations…
Keep a watch on this page as I add more recommendations for puppy owners, harnesses and collars. Or you can always reach out to me if you have any specific questions.
---
Disclosure: In some instances, when you purchase a product through my link, I may receive a very small affiliate commission from the seller. You don't pay anything extra. Although it's a very small amount, this commission helps support my business so that I can better serve my readers and training clients.